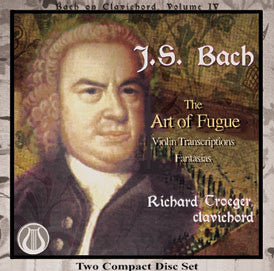 J.S. Bach: The Art of Fugue BWV 1080 - Richard Troeger, clavichord DOWNLOAD ONLY LEMS-8048
---
---
Digital Download available from your favorite site including
Download free liner notes below (Mac users use Ctrl + click)
The Art of Fugue is the long anticipated Fourth volume in Richard Troeger's groundbreaking, world premiere series of Bach's keyboard music performed entirely on the clavichord, exclusively from the Lyrichord Early Music Series. This edition features the complete Art of Fugue, along with stunning violin transcriptions, and fantasias, including the thrilling Chromatic Fantasia and Fugue. Two full CDs. The first three volumes all received rave reviews both here and abroad - The Art of Fugue is a promise fulfilled! Read the rave reviews below -
In all honesty, this is as good as it gets!
REVIEWS OF RICHARD TROEGER'S ART OF FUGUE
"There is no reason why The Art of Fugue should not be played on the clavichord, and Richard Troeger here offers its debut on this relatively intimate instrument. It works well, and he provides enough variety of tempi and colour to keep the listener's attention. Moreover, he has decided to compete the final fugue himself, very simply and logically, in a passage of 40 bars, which is perhaps better than being left hanging in mid-air! He adds the four Canons at the beginning of the second disc and follows with brilliant performances of the Chromatic Fantasia and Fugue and A minor Fantasia, use to frame his transcription of the Violin Partita, all of which sound very different from harpsichord or piano performances, and engagingly so. The recording is truthful and the discs come with excellent documentation."
-The Penguin Guide to Recorded Classical Music 2009
"This recording is fantastic and a must for lovers of the clavichord and J S Bach. Troeger makes excellent use of the clavichord, playing Bach's extremely complex music sensitively, with a fantastic ability to create light and shade in the music and good dialogue between the parts. The recording quality is excellent and the clavichord has a beautiful sound."
- Bridget Cunningham, Harpsichord and Fortepiano
"Perhaps the best compromise in AOTF would be a keyboard instrument that combines some of the piano's variety of expression with the crystalline lucidity of the harpsichord. This wonderful new two-disc recording from Lyrichord allows us to hear just that: a first-ever, complete AOTF on the clavichord, played with superbly stylish virtuosity by Richard Troeger. Unlike a harpsichord, which plucks the strings, the clavichord strikes them, with the added capability of nuanced vibrations and dynamic shading. As for clarity, Albert Scheitzer wrote in 1905 that "the clavichord is a string quartet in miniature; every detail comes out lucidly on it." Troeger plays an unfretted instrument built in 1979 by Robert Haas (in XII Troeger is joined by Paulette Grundeen on second clavichord). With fluent technique and extremely subtle rubato, Troeger gives each movement a vibrantly distinctive profile. As explained in his scholarly liner notes, Troeger completes the unfinished fugue with an additional forty measures of related material, which includes the famous pattern of B flat-A-C-B (in German musical nomenclature, that spells out B-A-C-H). It's the most persuasive completion of those I have heard...in no movement does Troeger fail to acquit himself honorably, and the delicate colors of his instrument are a joy to experience. As bonuses, Troeger gives us a sparkling Chromatic Fantasy & Fugue and a few of Bach's own transcriptions of violin works...path-breaking clavichord account by Troeger. Warmly recommended.
- Jeffrey Lipscomb Fanfare 11/05
"Troeger reminds me that baroque keyboard music was adaptable to a variety of (keyboard) instruments. I can't fault the superb musical mind behind these stunning readings. Lyrichord's sonics are fine. It would be hard to beat Troeger's marvelous expression and style in Bach, so I recommend it for all listeners, even those who, like me, don't normally think of the clavichord as the best instrument for this repertoire."
- Haskins, American Record Guide 11/2005
"A unique and sublime performance of the Art of Fugue... Richard Troeger is a world-class musician who deserves far more attention than he gets. I believe all of his recordings belong in every Bach-lover's collection!"
- Jan Hanford, the J.S. Bach Homepage
"No reservations about Richard Troeger's pioneering recordings of J S Bach on clavichord. This is a revelatory ongoing series which establishes the suitability of that quiet instrument for playing and listening to most of JSB's solo keyboard music. This release received (Vol. 4) is particularly ambitious, comprising the Art of Fugue, the Chromatic Fantasia and Fugue and some violin works in transcription. Others to follow will include the WTC Books 1 & 2 and the French and English Suites (Parts 2 and 4 of the Clavierubung will be performed on harpsichord).
Troeger, a lifelong clavichordist...is a supreme advocate for the instrument and his playing is of great tonal beauty and rhythmic subtlety."
-Peter Grahame Woolf MUSICALPOINTERS.CO.UK 11/2008
About Volumes 1 - 3:
"The three releases so far have been memorable not only for Mr. Troeger's mastery of his instrument but also for his interpretations. In the Partitas he responds unerringly to the character and emotion of the different movements while projecting more contrapuntal interest than most performers. In the Toccatas he uses the colors of the clavichord to give shape and variety to long fugues or sequences while also conveying a sense of improvisation. In the Inventions, Sinfonias and Preludes, his sensitive molding serves both the structure and the expression. All three recordings stand with the best available on any instrument"
- Bernard Sherman, New York Times
"Bach's Toccatas involve a good deal of virtuosity - hearing them played so fluently and musically on the more intimate clavichord, makes for an enjoyable diversity, and Richard Troeger certainly phrases and articulates with character. The recording engineer, Garth Hobden, is also to be congratulated"
- Penguin Guide to Compact Discs Yearbook, 2000/1
"Troeger's performance is, once again, extraordinary...vibrant and joyous, with wonderfully expressive nuances. The Inventions have never sounded better. The clavichord continues to be fascinating and rewarding. I find myself reaching for these CDs often and am intrigued and delighted every time I hear them."
- Jan Hanford, review website www.jsbach.org
"...the first recording on clavichord of J.S. Bach's Six Partitas, a formidable undertaking, dispatched with great conviction by Richard Troeger. Recommended enthusiastically"
- Peter Grahame Woolf, Seen & Heard (Music on the Web, U.K.)
"Troeger's recording of Bach's Toccatas is special, extremely moving, and completely indispensable."
- Robert Haskins, American Record Guide
"This series is proving an essential purchase for J.S. Bach devotees."
- Francis Knights, Clavichord International
Tracks:
DISC ONE
The Art of Fugue, BWV 1080
1.
Contrapunctus 1
- 3:09
2.
Contrapunctus 2
- 2:47
3.
Contrapunctus 3
- 3:05
4.
Contrapunctus 4
- 4:11
5.
Contrapunctus 5
- 3:15
6.
Contrapunctus 6, in Stylo Francese
- 4:07
7.
Contrapunctus 7, per Augmentationem et Diminutionem
- 3:39
8.
Contrapunctus 8
- 5:53
9.
Contrapunctus 9, alla Duodecima
- 2:56
10.
Contrapunctus 10, alla Decima
- 4:31
11.
Contrapunctus 11
- 7:23
12.
Contrapunctus 12a [rectus]*
- 2:21
13.
Contrapunctus 12b, inversus*
- 2:16
14.
Contrapunctus 13a, rectus
- 2:25
15.
Contrapunctus 13b, inversus
- 2:28
16.
Contrapunctus 14
- 8:25
Total Time 63:01
DISC TWO
1.
Canon 2, alla Ottava
- 2:35
2.
Canon 3, alla Decima
- 4:03
3.
Canon 4, alla Duodecima
- 2:14
4.
Canon 1, per Augmentationem in contrario Motu
- 4:06
Chromatic Fantasia & Fugue, BWV 903
5.
Fantasia
- 7:44
6.
Fugue
- 5:04
7.
Adagio in G Major, BWV 968
- 3:17
Sonata in D Minor, BWV 964
8.
Adagio
- 3:23
9.
Allegro
- 6:44
10.
Andante
- 4:05
11.
Allegro
- 3:34
Partita in E Major, BWV 1006a
12.
Praeludium
- 3:52
13.
Loure
- 2:54
14.
Gavotte en Rondeau
- 2:40
15.
Menuets I & II
- 3:57
16.
Bourree
- 1:39
17.
Gigue
- 2:09
18.
Fantasia in A Minor, BWV 922
- 7:05
Total Time 71:36
*With Paulette Grundeen, Clavichord II
Read interview with Richard Troeger
HERE
.
Additional Information
Click here to read review in Musical Pointers from the UK!
---
We Also Recommend
---