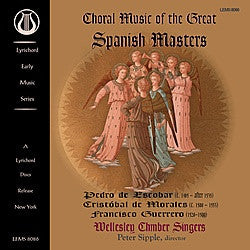 Choral Music of the Great Spanish Masters - Wellesley Chamber Singers - DOWNLOAD ONLY LEMS-8086
---
---
Digital Download available from your favorite site including
Download free liner notes below (Mac users use Ctrl + click)
In his book "Spanish Cathedral Music in the Golden Age" Robert Stevensen wrote
, "Never in Spanish history were more eminent musicians gathered in one cathedral than in Seville during the first quarter of the sixteenth century."  All the solemn intensity and powerfully emotive vocal writing characterized by the greatest Spanish Polyphony of the period is evident in this Lyrichord recording of the great Spanish choral masters: Escobar, Morales, Guerrero and Victoria. The Wellesley Chamber Singers under the direction of Peter Sipple perform the works of these dark and powerful composers with a unified style and a level of musicianship that is disarmingly spot-on in its stirring affect.

Pedro de Escobar (fl. 1480-1513)

1. In Nativitate et Ephiphaniae Domini.

Cristobal de Morales (ca. 1500-1553)

2. Puer natus est.

3. Magnificat tertii toni.

Francisco Guerrero (1528-1599)

4. Canite tuba in Sion.

5. Pastores loquebantur.

Three songs from Caciones y villanescas espirituales:

6. Ojd, ojd, una cosa divina.

7. Virgen sancta.

8. A un nino llorando.

Thomas Luis de Victoria (ca.1548-1611)

9. O Magnum Mysterium.


---
We Also Recommend
---