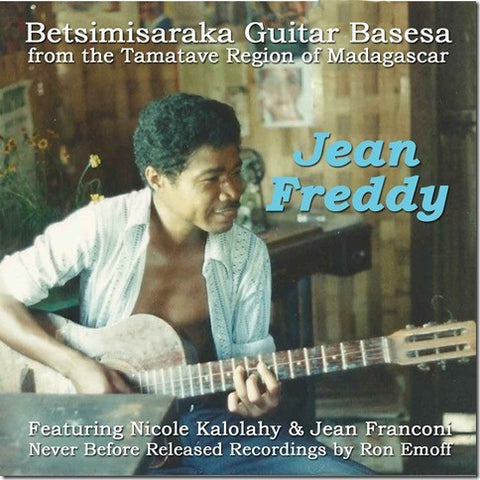 Jean Freddy and Nicole Kalolahy: Betsimisaraka Guitar Basesa from the Tamatave Region of Madagascar DOWNLOAD ONLY MCM-4019
---
---
Digital Download available from your favorite site including
Basesa is a musical genre of the Betsimisaraka cultural group in the Tamatave region on the east coast of Madagascar. Often eclipsed in World Beat circles by the vastly popular and iconic salegy, basesa enjoyed its own island-wide popularity in the 1970s and has become once again popular in recent years. Jean Freddy was a very popular, vital composer and performer of basesa in the 70s. After a virtual musical silence of two decades, Jean Freddy sings some of his repertoire in an unplugged informal setting recorded in the mid-1990s in his own house in Fenoarivo-atsinanana on Madagascar's east coast. He is accompanied by his son, Jean Franconi, and Nicole Kalolahy, a younger musician also living in Fenoarivo-atsinanana and also a well-respected acoustic guitarist and performer of basesa. 
Recorded 1994 in Fenoarivo-atsinanana (Fénérive-est), Madagascar by Dr. Ron Emoff, Professor, Ohio State University.
[Recorded on a Sony TCD5M analog tape recorder with Sennheiser MKH40 microphones. The sound here is unmixed, unedited, and otherwise unaltered from the original recordings].
[Tracks 1-7 Jean Freddy, guitar and vocals; Nicole Kalolahy, guitar, vocals, and percussion; Jean Franconi (Jean Freddy's son), rhythm guitar, vocals, and percussion]
[Tracks 8-14 Nicole Kalolahy, lead vocals and guitar; Jean Freddy, guitar and vocals; Jean Franconi, rhythm guitar, vocals, and percussion]
[Tracks 11-14, Nicole Kalolahy, guitar and vocals, Nicole's neighbors, vocals and percussion]
Track listing:
1 Gorisa 5:08
2 Amito darako 4:19
3 Malahelo mahia manambady 4:46
4 Dodo zaza 6:04
5 Mena mahazo 4:57
6 Rafody 4:35
7 Tsy miala any amin' ny mahalatra 5:20
8 Kiringy 3:46
9 Vorona ino? 4:49
10 Zaza boatra 3:57
11 Izegny natanao 3:19
12 Anakiray monja 3:51
13 Lahaosanao an-tanana 4:28
14 Rabetsa 5:17
15 Antandroy ceremonial music 7:14 
---
We Also Recommend
---